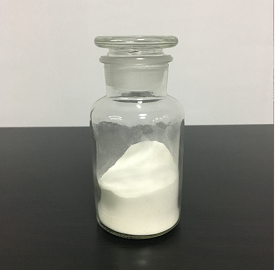 Item specifics
Appearance

White Powder
Purity

99%
Description
Products Description
Vitamin B5 (Pantothenic acid) is an essential component of coenzyme A (CoA) and acyl carrier protein (ACP). In both CoA and ACP, a derivative of pantothenic acid, 4'-phosphopantetheine, forms the active portion of the compound. COA is required for the chemical reactions that produce energy from carbohydrates, fats, and proteins and for the synthesis of essential fats, cholesterol, certain hormones, and the neurotransmitter acetylcholine. ACP is involved in the synthesis of fatty acids.

Pantothenic acid, or vitamin B5 is sometimes called the antistress vitamin and there are indications that it may be helpful in treating depression and anxiety. Some physicians, in fact, will recommend that patients suffering from chronic stress take supplemental doses of pantothenic acid.



Vitamin B5

is commercially available as D-pantothenic acid, as well as dexpanthenol and calcium pantothenate, which are chemicals
made in the lab from D-pantothenic acid.

Pantothenic acid is frequently used in combination with other B vitamins in vitamin B complex formulations. Vitamin B complex generally includes vitamin B1 (thiamine), vitamin B2 (riboflavin), vitamin B3 (niacin/niacinamide), vitamin B5 (pantothenic acid), vitamin B6 (pyridoxine), vitamin B12 (cyanocobalamin), and folic acid. However, some products do not contain all of these ingredients and some may include others, such as biotin, para-aminobenzoic acid (PABA), choline bitartrate, and inositol.
Main Functions
1. D- pantothenate functions as vitamins in feed, food and pharmaceutical industry. It is an essential part of coenzyme A.
2. D- pantothenate can adjust the metabolism of protein, carbohydrate and fat, preserve the mucosa on the skin surface and shine of the hair (or feather), and moreover prevent diseases.
3. D- pantothenate is especially indispensable to the growth, fat synthetize and catabolism of poultry, livestock and fishes.
Deficiency Symptoms: The deficiency of D- Pantothenate will cause poultry and livestock to grow slowly, hinder their reproduction, lower their adaptability.
Applications
1. In medicine industry:
D- pantothenate the panthenol partispate in the metabolism.
2. In food industry:
D- pantothenate promotes human body protein, fat, carbohydrate metabolism and nutrition supplement and improves immunity.
3. In cosmetics industry:
D- pantothenate stimulate the growth of epithelial cells, promote wound healing and diminish inflammation function.
4. Care hair:
D- pantothenate with the moisturizing function, prevent hair open fork and increase the density of hair and improve hair quality luster.
5. Care nails:
D- pantothenate improve the hydration of nails and make nail pliable.