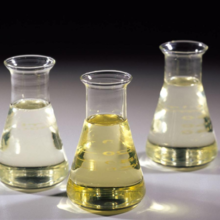 Vitamin A Acetate oil (1.0MIU,2.0MIU,2.5MIU,2.8MIU)
Model

1.0MIU,2.0MIU,2.5MIU,2.8MIU
Description
Introduction
Vitamin A acetate, chemical name as retinol acetate, is the earliest vitamin being discovered. There are two types of Vitamin A: one is retinol which is the initial form of VA, it only exists in animals; another one is carotene. Retinol can be composited by β-carotene coming from plants. Inside the body, under the catalysis of β-carotene-15 and 15′-double oxygenase, β-carotene is transformed into ratinal which is returned to retinol by the performance of ratinal reductase. Thus β-carotene is also called as vitamin precursor.
Vitamin A Palmitate Powder is a group of unsaturated nutritional organic compounds, that includes retinol, retinal, retinoic acid, and several provitamin A carotenoids, among which beta-carotene is the most important.
Function
-Retinol can effectively prevent obesity, keep women slim figure.
-Retinol is used to promote bone growth, help teeth growth, regeneration.
-Retinol can adjust the skin and cuticle metabolic effect, can be anti-aging, and to wrinkles.
-Retinol can help protect skin, mucous membrane from bacteria violations, healthy skin, prevent skin cancer.
-Retinol also can prevent nyctalopia, eyesight decline, the treatment of various eye disease, make the woman good eyes.
-Retinol can reduce sebaceous overflow and make the skin elasticity, and at the same time, desalination spot, smooth skin
Application
1,Prevent night blindness and vision loss; it's helpful to the treatment of eye diseases. (VA could promote the formation of photo pigment inside eyes)
2,Anti-respiratory-infection 3,Immune-system enhancing
4,Promote early recovery.
5,Keep healthy of organizations or organ surface. 6,Remove senile plaques
7,Promote healthy growth, strong muscularity, protect skin, hair, teeth and teeth gums.
8,The external use is helpful to the treatment of acne, pimple, skin surface ulcerations.