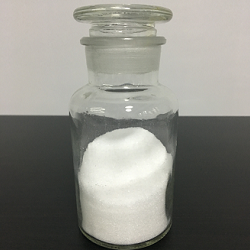 Lithium Bromide Anhydrous
Item specifics
Appearance

White Crystal
Purity

99%min
CAS No

7550-35-8
EINECS No

231-439-8
Description
Lithium bromide
Properties: white crystal with a little bitter taste. Easily soluble in water, soluble in ethyl alcohol.
Properties:
Property white cubic crystal or granular powder.
Melting point 550℃
Boiling point 1265℃
Relative density 3.464(25℃)
Solubility Easily soluble in water, solubility is 254g/100ml water (90℃); soluble in ethyl alcohol and diethyl ether; slightly soluble in pyridine; soluble in methyl alcohol, acetone, ethylene glycol and other organic solvents.
Solubility: 61 g/100 mL (25℃)
Application: The product is an efficient water vapor absorbent and air humidity modifier. It can be widely used in refrigeration industry as absorption type refrigerant, in organic industry as hydrogen chloride remover, expansion agent for organic fiber, and as hypnagogue and sedative in pharmaceutical industry. In addition, it can also be used in photographic industry and analytical chemistry, etc.
Quality standard:
Name

Lithium bromide content≥

99.0

99.5

Impurity content ≤(%)

Chloride (Cl)

0.1

0.05

Sulfate (SO4)

0.04

0.02

Calcium (Ca)

0.01

0.005

Magnesium (Mg)

0.005

0.0005

Iron (Fe)

0.001

0.0002

Water insoluble matter

0.04

0.02

Moisture (H2O)

0.8

0.4

Appearance

White crystalline powder
Packing: 25KG/drum, with sealed plastic drum outside and double-layer plastic bag inside.
Storage: keep in cool and dry place