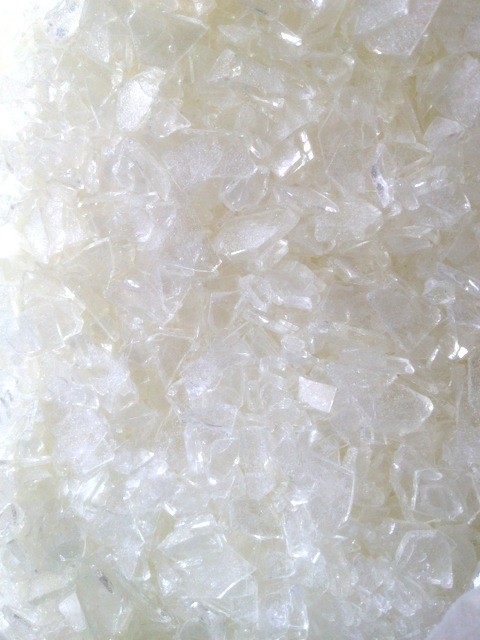 Description
POLYESTER RESIN P-516 (50:50)
Properties
P-516 is a carboxyl saturated polyester resin, which is used tegether with epoxy resin (by 50: 50) to produce hybrid powder coatings with more pigment paddings allowable to be added, giving high gloss, good flow effect, wonderful mechanical properties, pretty decorative effects, excellent yellowing resistance and marked durability.
Specifications
Appearance: Light yellow & clear granule
Acid value (mgKOH/g): 68-80
Softening point (℃): 96-115 (Ring & Ball Method)
Glass Transition Temperature(℃): ≥ 55±3
Viscosity (175℃/ mPa.s): 3000-4000
Package
Packed in 25kgs Polyethylene bags.
Storage stability
Stored in the original bags and in a ventilative, dry and clean place under 30℃ and valid for one year.
Recommended Formulation
| | |
| --- | --- |
| Ingredients | Weight |
| P-516 (50:50) | 300g |
| Padding | 375g |
| Benzoin | 5g |
| | |
| --- | --- |
| Ingredients | Weight |
| Epoxy Resin (E-12) | 300g |
| Flow agent | 10g |
| Leveling agent | 10g |
Technical condition for coatings
| | |
| --- | --- |
| Extruder | SLJ-30AF |
| Helix Pole Temperature | 80℃ |
| Curing Condition | 185℃ for 15 min. (Metal temperature) |
| Clamp Set Temperature | 100-120℃ |
| Rotational Speed | 70rpm |
Coating Film Properties
| | |
| --- | --- |
| Film Thickness | 60±10 μm |
| Bend (mm) | ≤ 6 |
| Pencil Hardness | ≥ 1H |
| Gloss (60℃) | ≥ 90% |
| Impact Intensity | ≥ 50kg.cm |