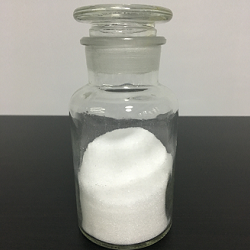 Item specifics
color

white crystalline powder
Purity

99%min
Description
Mannitol
Molecular formula: C6H14O6
Molecular weight: 182.17
Capacity: 10000MT/YEAR
package: 25KG KRAFT/BAG 25KG/DRUM
Characteristics:
The product is colorless crystalline powder, odor free and with sweet taste, it is easily dissolved in water and slightly sissolved in ethyl alcohol.
Application:
Injection material: used in producing the mannitol injection solution, reducing the encephalic pressure, the intraocular pressure etc.
Excipient of filler for tablets: used in the anticancer drug, antibacterial, antihistamine medicine, in vitamin, drunk awaking drug, the mouth freshener tablet and so on. Vasodilator medicine for blood vessel of brain: used in treating the blood vessel blocked of brain.
Diuretic stuff: mannitol is a kind of mild laxative lapactic, which has a special curative effect to oliguria and the kidney function failure caused by dropsy, burnt and so on.
CERTIFICATE OF ANALYSIS
Commodity

Mannitol

Batch NO

1009083

Packing

25kg / bag

MFG. date

Sep.3.2010

Quantity

10000kg

Expiry date

Sep.2.2012

Basis

Correspond to BP2007

ITEM

STANDARD

RESULT

CONCLUSION

Appearance

White crystalline powder

White crystalline powder

Conformity

Identification A:

Infrared absorption spectrophotometry

Conformity

Conformity

Conformity

Identification B:

Melting point

165°C~170°C

165.9°C~167.9°C

Conformity

Identification C: TLC

Conformity

Conformity

Conformity

Identification D:

Specific optical rotation

+23°~ +25°

+23.3°

Conformity

Appearance of solution

Clear and colourless

Clear and colourless

Conformity

Conductivity

≤20us/cm

4.9us/cm

Conformity

Reducing sugars

≥12.8 ml

17.7ml

Conformity

Related substances:

The area of any peak

Total impurities

≤2%

≤2%

<2%

<2 %

Conformity

Lead

≤0.5 ppm

<0.5 ppm

Conformity

Nickel

≤1 ppm

<1 ppm

Conformity

Loss on drying

≤0.5%

0.2%

Conformity

Microbial contamination:

TAMC

TYMC

Escherichia coli

Salmonella

≤100 CFU/g

≤100 CFU/g

Negative

Negative

<10 CFU/g

<10 CFU/g

Negative

Negative

Conformity

Bacterial endotoxins

<2.0EU/g

<2.0 EU/g

Conformity

Assay

98.0% ~ 102.0%

99.6%

Conformity

Remark

Samples

Conclusion

Conformity